Creative Writing Club
Fill your paper with the breathings of your heart.
-- William Wordsworth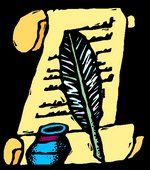 Next Meeting!
Wednesday, January 29th @ 3:00 p.m.
Room #25
Laws of Life : You are only as good as your word. Honesty is the best policy. To have a friend, be one. The Laws of Life are the core values that we take with us wherever we go and whatever we do. The Laws of Life Essay Contest challenges young people of all ages to discover for themselves the values that will guide them throughout life.
Quote Garden : a collection of quotes and sayings - inspirational,
funny, thought-provoking, motivational, famous, literary. This free, searchable, and ever-growing website is visited daily by writers, speakers, students, & word seekers worldwide!
Teen Ink Online Magazine : A magazine written by teens.

The Alliance for Young Artists & Writers : John Steinbeck's Advice to Beginning Writers
Literature Lovers/Book Club Help : A list of web sites that should be helpful to people in book clubs to find information about authors and books.
Manchester/Coffee County Public Library News!
Link to the archived Inklings website created by Mrs. Teresa Lockhart