Coffee County Central High School Chapter of the National Beta Club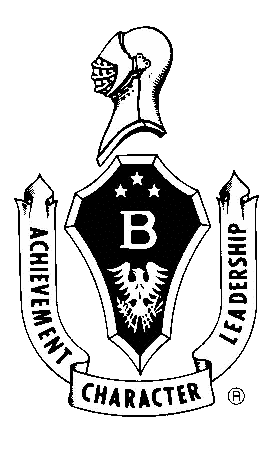 2017-18 CHS Beta Club officers:
President Taela Bland
Vice President Brenn Simmons
Secretary Noah Watkins
Treasurer Brianna Cardinal
Historian Michelle Dong
Webmaster Alyssia Ferrell

What is Beta Club?
The Beta Club motto is Let us Lead by Serving Others! The Purpose of the Coffee County Central High School chapter of the National Beta Club is to promote leadership, character, academic achievement and service. This club will also provide opportunities for students to share their talents in math, science, history, creative writing, art, music, dance, drama and speech at the state and national level through participation at Beta Conventions
When and where are the Beta Club Meetings?
The CHS Beta club meets once a month on the last Wednesday of each month from 3-4pm in Mrs. Acklen's room, room 70. Officers and other committees or groups may be asked to meet more often.
Want to Join CCCHS Beta Club?
Beta Club membership has to be renewed each year. If you have kept an overall B average then you are invited to join our local chapter of the National Beta Club. We need you to complete an application and turn in your dues before fall break. The dues for returning members is 25.00 and new members 30.00. For more information on joining this club, see Mrs. Acklen in room 70.

As an nationally recognized academic honor society, our Beta Club requires that memebers maintain an overal B average. Anyone who consistantly earns a Red or Black Card will qualify OR anyone who's final yearly grades average out to 85 or higher. Also, 9th graders who were members at CMS or WJH are accepted in for their freshman year. 9th Graders who were not in Beta last year will be accepted if their final grades average out to 85 or higher. Beta members must also have a good discipline and attendance record.
Stay informed & involved...
As of 2017-18, all Beta members are required to join our Google Classroom. If you need the access code, please see any sponsor or request the code at the next club meeting. We will also post announcements in the school announcement email as needed and or put announcements on the monitors in the main commons area as needed.

2016-17 Another Great TN Beta Convention! Above & Beyond!
Check out this story from Coffee County News
Beta Club Officers 2016-2017:
Zack Hughes-President
Joe West-Vice President
Alexis Liles-Secretary
Brooklyn Ferrell-Reporter
Stuart Jackson-Historian
2015-16 CHS Beta Club Officers:
President - Lexi Bowen
Vice President - Zack Hughes
Secretary - Andrea Vazquez
Historian - Sarah Pittman
Service Committee Chairperson: Alexis Liles
Public Relations Chairperson: Madison Lowry
Past Examples of Beta's Community Service:
CHS General Store volunteer helper--our members helped in organizing clothes, food, school supplies, personal hygenine items etc.
East Coffee Elementary School has invited Betas to serve as helpers at their reading nights.

BETA SOS - Beta Serves Our School - This project involves having Betas sign up to help a teacher after school. Clean white boards, desks, hang posters etc. You must be approved and assigned to a teacher before you can work so be sure to email or see Mrs. Ray if you are interested.
Autumn Oaks Assisted Living Betas have served these senior citizens by helping with crafts, playing games or just visiting during their evening activities time.
THANKSGIVING BASKETS & BETA ANGELS - The holiday season is here and we always help some families in need each year. Club members are strongly encouraged to donate. Please remember this as you are shopping. You can always purchase thing that would work for boys or girls like candy, games, toys, art supplies. As December approaches we will be more specific as to our needs.

Beta Angels - Beta members will donate items and funds to give Christmas gifts to a needy family in Coffee County. We also use a portion of Beta club dues to help support this project.
Thanksgiving Baskets - Betas donate enough items and funds to put together at least two thanksgiving baskets that went to needy families in Coffee County. We always support this SGA project and look forward to continuing to do so. We also use a portion of Beta club dues to help support this project.

Beta Bears - Since last spring, Betas have donated over 200 bears/stuffed animals to be given to the Coffee

Gift Boxes for Kids in Need - Betas will donate items and funds to provide a shoe box filled with toys, art supplies, and story books to a child in need.

Teacher Survival Kits - Our members give each teacher a "Survival Kit" for parent-teacher conference night which also includes a note of thanks and encouragement for all they do to educate their students and serve our school.

Patriot Week Ribbons - Support our Local VFW We will take donations for patriotic ribbons in honor of Patriot Day-9/11 Visit the Beta Club table during all four lunches throughout the week of Sept 7th – 10th. All monies donated will help the local VFW with the installation of a much needed ceiling. CCCHS students can help show our appreciation for the service our veterans have given this country by wearing their red, white and blue "Patriot Ribbon" during the week of Sept. 7-10th

Beta Reading Mentors - Betas often volunteer at area elementary schools in support of a variety of reading programs for children and their families. In 2001-2012 we worked most months at East Coffee's Family Reading night.

Beta Workers for Coffee County School System Events - Our mission involves maintaining high academic acheivement and for this reason we are always looking for ways to support education in Coffee County. This past year, we provided Beta members as volunteer workers at a "Carnival" to raise funds for the BackPack program at Deerfield Elementary School. If your school needs workers for an event, please email Mrs. Acken to make arrangements.

Beta Helps Haven of Hope - Donate a Cell Phone to our project for Haven of Hope Center for Domestic Violence. This will be an ongoing project. Phones and chargers can be turned in the Mrs. Ray in room 130.